Best projects, developers and investors receive BREL Forum Awards
October 12, 2023
• 0 Comment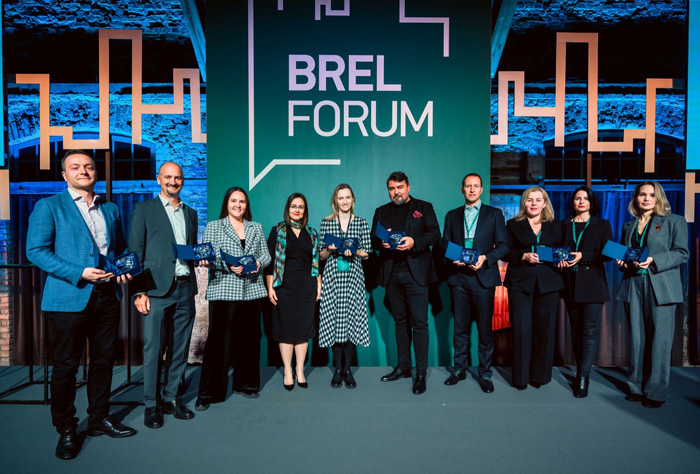 For the second year in a row, Baltic Real Estate Leaders vote for the best projects, developers, green initiatives in a public voting and by professional jury votes. More than 900 real estate experts in public voting and a professional jury have evaluated the real estate projects in Latvia: 30 nominants competed in 4 categories.

PROFESSIONAL JURY MEMBERS:
NEILS BALGALIS – MANAGING DIRECTOR & URBAN PLANNER SIA GRUPA93
LAURA BLUŠA – THE ALLIANCE OF REAL ESTATE DEVELOPERS
PĒTERIS RATAS – RIGA CITY ARCHITECT
INGRĪDA DRAZDOVSKA – DELFI REAL ESTATE JOURNALIST
FREDIS BIKOVS – DIRECTOR RIGA INVESTMENT AND TOURISM AGENCY
CATEGORIES FOR VOTING:
DEVELOPER OF THE YEAR
PROJECT OF THE YEAR
REVITALIZED PROJECT OF THE YEAR
BEST GREEN INITIATIVE
The awards had been presented to the winners at BREL Forum on 12 October 2023 in Riga.
The list of BREL Forum Awards 2023 winners as follows:
Jury Award
TEPAT GRUPA – Developer of the Year
SHED CO-LIVING by I ASSET MANAGEMENT – Project of the Year
SC AUGUSTS by RIVER PROPERTIES – Revitalized Project of the Year
ELEMENTAL BUSINESS CENTRE BY KAPITEL – Best Green Initiative
Public Vote
BONAVA LATVIJA – Developer of the Year
TERBATAS 72 by YIT&BTA – Project of the Year
ELIZABETES 89 by INDEXO Real Estate Fund – Revitalized Project of the Year
POCKET PARK & INFRASTRUCTURE ISLAND SKANSTES CITY – Best Green Initiative
SPECIAL RECOGNITION AWARD BY COLLIERS
EAST CAPITAL
In current turbulent investment market conditions there are not many investors that dared to invest. This year's Colliers and BREL forum special recognition award is given to East Capital for continuing their investments into Riga commercial real estate market.
Congratulations to all winners!
About the BREL Forum:
BREL Forum is the most important event for real estate leaders in the Baltics. Since 2010, BREL Forum has brought together real estate developers, investors, builders and other industry experts and professionals. BREL Forum is organised by Colliers and its main partners are Capitalica Asset Management and Preses Nama Kvartāls. Forum partners – LiveRiga and Pillar. More information: www.brelforum.com.
About the BREL Forum Awards:
This year, the BREL forum for the second time will present the BRELF awards, recognizing real estate projects implemented in the Baltic region. Two awards has been presented in each category – one chosen by the public by online voting and the other by real estate leaders and a professional jury.