Changes in the Baltic Real Estate and Investment Market Create New Opportunities
October 2, 2023
• 0 Comment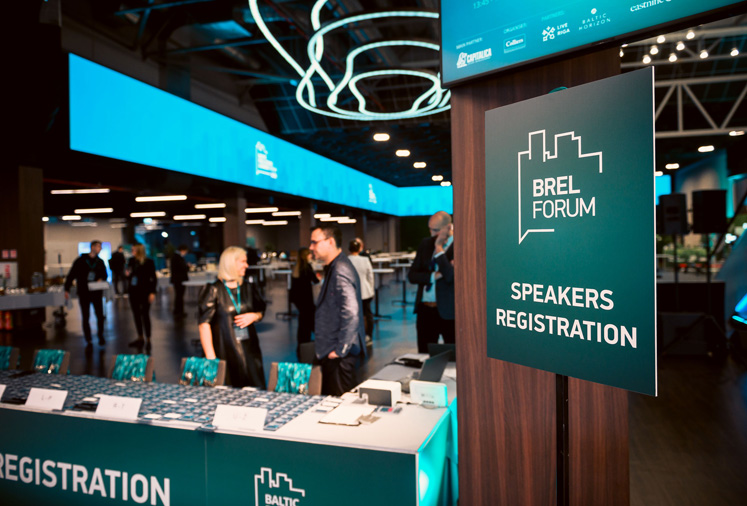 At the upcoming Baltic Real Estate Forum "BREL" on October 12th, which will take place at Hanzas Perons, in Riga, industry experts will discuss changes in the Baltic investment market and their impact on decisions of investors and commercial clients regarding real estate development. It will also address the impact of communication on project implementation and provide advice on finding a balance between expectations and reality to ensure successful financial flows and investment attraction. The forum participants will be welcomed by Riga City Mayor Vilnis Kirsis.
At the forum, industry experts from the Baltic states, Italy, Poland and Germany will participate in discussions and share their experiences regarding changes in the Baltic investment environment and their impact on investment flows. Panel discussions will also cover economic downturns, emergency situations, and other external factors affecting investment decisions. Participants will share their experiences in dealing with errors in communication and internal conflicts among project stakeholders, such as construction contractors, architects, and government representatives, which can lead to project interruptions and how to avoid them in the future. The forum will also explore opportunities to balance and protect investments, future benefits, and investor expectations regarding financial flows.
The event will be held in three separate sessions. The first will focus on the future development of the Baltic region. Zygimantas Mauricas, Chief Economist of Luminor Lithuania and Lecturer at ISM University of Management and Economics, one of the top Business Opinion Leaders in Lithuania and Active Investor, will talk about the latest forecasts for the return of "cheap and abundant money" to the investment market. Peteris Ratas, the Riga Chief Architect with decades of architecture experience in cities like New York and Shanghai, will share ideas on reviving the capital of Latvia. Kitija Gruškevica Head of Latvian Branch of RB Rail AS, will review the challenges and opportunities she has faced while implementing electrification of the largest Baltic – region infrastructure project in the last 100 years, Rail Baltica.
The second session will discuss opportunities for increasing and protecting investments. Christine Reitsamer, Head of Real Estate Research at KPMG Germany, will present information about macro – economic setting, key to further development, latest megatrends and their effects on tenants, investors and valuations, show the development of the European investment markets and more. Meanwhile, Associate Director of Investment Department at Colliers Baltics Rolands Bogdanovs will lead a panel discussion on how to overcome challenges and discover new opportunities in the future together with top real estate leaders – Aivaras Abromavicius, Viljar Arakas, Kestutis Sasnauskas and Andris Kovalcuks.
The final section of the forum together with experts, will cover ideas to ensure future – proofing development. Renata Hartle, Real Estate Innovation Expert from Poland and an accredited professor, will explain what constitutes of a smart building, share insights how Al is changing the industry and talk about futureproofing a building. Kate Nightingale, Head Consumer Psychologist and Founder of Humanising Brands Ltd and a leading consumer psychologist, will reveal the latest information about the impact of future consumer and how key consumer behavior trends shapes the design of places we live, work and shop in. Jan Kamoji – Czapinski, Hickey & Associates Location & Incentives Strategy EMEA director, will share how global events are affecting us, how to attract investment un position the Baltics in the global war for FDI.
The last forum panel discussion moderated by Eriks Bergmans will elaborate  on the failures in real estate and what lessons have been learned together with industry experts Gabriele Gegeviciute, Ivars Pommers, Ursel Velve and Giovanni Dalla Zonca.
The forum will conclude with a BRELF awards ceremony about the best real estate projects implemented in the Baltics.
Registration for the forum can be done until October 10th at www.brelforum.com/tickets/. The full forum program and information about the speakers is available here: https://www.brelforum.com/program/.
 About the BREL Forum:
BREL Forum is the most important event for real estate leaders in the Baltics. Since 2010, BREL Forum has brought together real estate developers, investors, builders and other industry experts and professionals. BREL Forum is organised by Colliers and its main partners are Capitalica Asset Management and Preses Nama Kvartāls. Forum partners – LiveRiga and Pillar. More information: www.brelforum.com.
About the BREL Forum Awards:
This year, the BREL forum for the second time will present the BRELF awards, recognizing real estate projects implemented in the Baltic region. Two awards will be presented in each category—one chosen by the public through online voting and the other by real estate leaders and a professional jury. Public voting is open until October 1st: https://www.brelforum.com/poll/brelf-awards-2023/.
Media Contact:
Anastasija Ruža
Head of PR and Marketing Department
Colliers International Advisors
Phone: +371 29262468
anastasija.ruza@colliers.com