Construction of Riga's greenest office complex VERDE is seeing fast progress; the only Class A office centre in Riga will be completed in the first half of 2022
September 28, 2021
• 0 Comment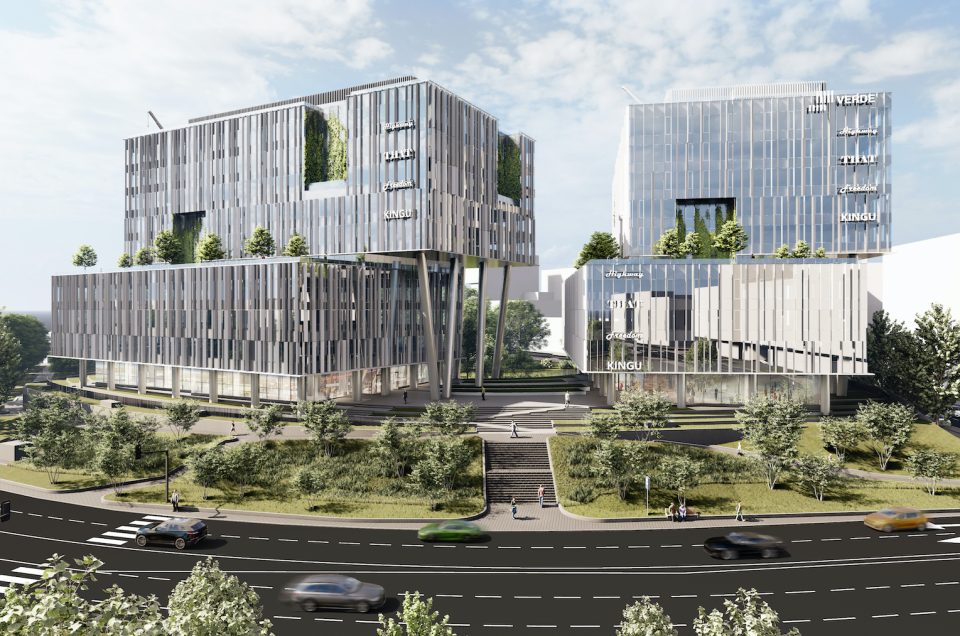 Construction of the first building of Riga's greenest office centre VERDE, located on the crossing of Skanstes Street and Hanzas Street, is conducted in line with the schedule and will be completed in June 2022. Half of the construction works have been completed – the underground car park, frame construction for five of the 11 floors, works on the first-floor facade and engineering works have been started, while the rest of the building is being built. At the same time, there is active work in progress with potential tenants, allowing them to follow the construction process.
"Construction of VERDE's first building is progressing fast, in line with the schedule, and some of the jobs have been completed ahead of the tight construction schedule, despite the difficulties in construction materials supply chain and growing prices of construction materials, which is the reality of today's market. We plan to complete works on the first building of VERDE already next June. VERDE's builder Velve simultaneously conducts large-scale structures or slabs concrete works and the installation of the façade system for 0 floor and 1st floor is in progress and engineering systems, focusing also on safety and health issues, cleanliness and order on the construction site," said VERDE commercial director Iveta Lace.
It is planned that in two years, investing more than EUR 65 million, more than 3,000 people will work in the new offices with a floor space of 30,000 m2 (45,000 m2 including underground parking). More than half of the tenants will be international companies that are actively seeking for sustainable, environmentally-friendly, energy efficient offices that have been adapted for the needs of the new generation employees.
"Besides intense construction works of the first building of VERDE office centre, there is active work going on with potential tenants. In order to give a glimpse of the advantages of VERDE, we have set up a special meeting place next to the construction site – VERDE POP-UP TERRACE where the first guests have already been received. They are given the chance to see and learn about the progress of the project in an excursion to the construction site with construction experts and individually discuss the needs of the companies together with Colliers International and VERDE representatives. During the first visits of potential tenants, a necessity has been noted for office premises that present new advantages for on-site work. They are mostly related with the environment that supports co-working and productive individual work, and meets the highest well-being standards, as well as is a place close to homes of tenants and the active city centre," said Iveta Lace.
International sustainability experts, assessing VERDE office complex during the design stage, have granted BREEAM Excellent certificate that proves that VERDE offices will be built, following the highest sustainability standards. The building will use the highest-standard heating, ventilation and air conditioning (HVAC) system, run by interior climate management approach, using BMS (building management system) and in-door thermostats. Besides, in order to ensure cleaner air, such functions as air humidifier systems, chilled beams and CO2 sensors will be installed. The complex will meet nearly nZEB (Zero Energy Building) standard. Each fifth floor of VERDE offices will have 600 m2 green terraces with hundreds of plants and up to 5m tall trees. Terraces and the green yard that will be almost car free will have dozens of outdoor workplaces. A large underground parking place with access from Roberta Hirsa Street will have space for cars, electric cars and environmentally friendly transport vehicles – bicycles and scooters.
More than EUR 65 million will be invested in construction of VERDE office complex, of which EUR 22 million is a loan from the European Investment Bank that approved funding from an investment package earmarked for fight with climate changes. The project's developers and investors are Capitalica Asset Management – part of Lithuania's largest multi-industrial group SBA Group.
About VERDE
VERDE will be the greenest Class A office complex in Riga, on Skanste Quarter, where Skanstes Street and Hanzas Street meet, across the Latvian Firefighting Museum, and the only Class A office complex, the first stage of which will be opened in the first half of 2022. VERDE office complex consists of two office buildings with the total floor space of 30,000 m2 (45,000 m2 including underground parking). VERDE has been designed in line with the standards of BREEAM Excellent and nZEB (nearly Zero Energy Building). VERDE has been recognized the second most sustainable project in competition "Sustainability in Architecture, Construction and Design 2020".
VERDE embodies its green thinking in a sustainable and contemporary architectural solution designed by Latvian architects Andris Kronbergs and Janis Zvejnieks (Arhis Architects), applying Class A energy efficiency and smart building management solutions. The special feature of VERDE will be incomparable greenery on 600 m2 large terraces with trees and plants on each of the buildings and green outdoor workspaces in the yard. According to latest studies, scientists have proved that relaxing terraces, greenery, modern air ventilation systems, smart lighting and wise office planning, different conveniences and other Class A services improve well-being and productivity.
About Capitalica Asset Management and SBA Group
Capitalica Asset Management is a Lithuanian investment management company that develops and manages commercial real estate properties across the Baltic states. It manages assets with a floor space of more than 43,000 m2 and worth more than EUR 90 million. Capitalica Asset management is an experienced developer in the sector of sustainable real estate properties.
Capitalica Asset Management is a part of SBA Group, which is one of Lithuania's largest multi-industrial companies working in real estate development, furniture, textile manufacturing and module house construction sectors. SBA Group's real estate portfolio contains Green Hall in Vilnius, Kaunas Dokas and Kaunas Plaza in Kaunas. VERDE is the first project of Capitalica Asset Management and SBA Group.